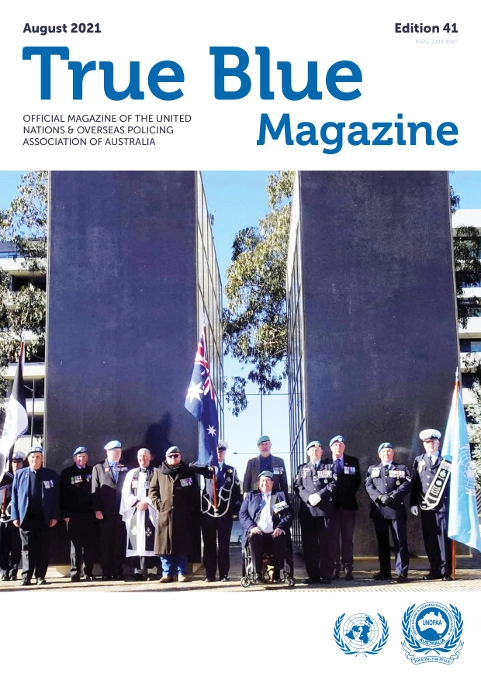 The United Nations & Overseas Policing Association of Australasia, (UNOPAA) is an Australian incorporated, not-for-profit organisation whose members are both serving and retired Police Officers from Police Forces throughout Australia and, who have served or are serving with United Nations or IDG Peacekeeping Forces throughout the world!
TRUE BLUE is posted to its Policing Association members throughout Australasia and worldwide to where IDG Peacekeepers Police and Australian Federal Police are serving. Our magazine contains welfare, legislative and social information relevant to the well-being and camaraderie of UNOPAA members who have or are serving in Australia's National Interest.
Aims of the UNOPAA
To maintain and foster the memory of UNOPAA members killed whilst serving with United Nations Forces or IDG Peacekeepers.
To provide welfare, legal and financial support where and when appropriate to members.
To promote social occasions such as Reunions, etc., including United Nations and Anzac Day Marches.
To pursue and lobby industrial, legal and political avenues, when necessary in order to improve the welfare and industrial benefits to our members.
Details
Copies
4,000
Readership (Approx.)
45,000
Journal Size
A4 (210mm x 297mm)
Format
Four different sponsor inserts to support local members with corporate sponsors in all copies.
Distribution
IDG Peacekeeping Forces, both serving and retired members, families of deceased members killed while representing Australia and serving overseas with the United Nations Peacekeeping Forces, all United Nations Police Service members, Australian Federal Police, State Police, every police station – state and federal – and valued local sponsors of the publication.
Additional Information
Three editions per year – April, August and December.
Artwork required 6 weeks prior to delivery date. (Last deadline)
10% discount applies to an annual commitment of three editions.
Testimonial
Countrywide Austral has published our True Blue magazine for us for a number of years. We have found them professional, knowledgeable, and always attentive to our needs. Our partnership has been an excellent one.
Peter McDonald APM
Chief Superintendent (Retired)
National Secretary
United Nations & Overseas Policing Association of Australia Incorporated (UNOPAA)