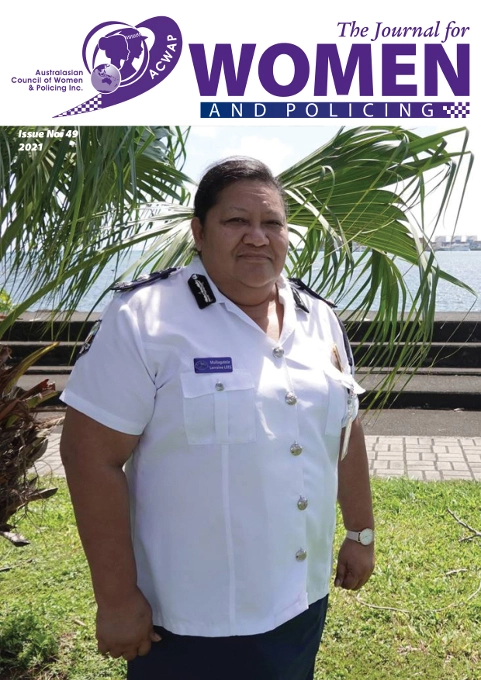 The Australasian Council of Women and Policing is working to improve policing for women. It was established in August 1997 and is a growing group of women and men within police services and the community who are working together to improve the policing services provided to women, improve opportunities and outcomes for women within policing and participate in the global network of women in policing.
The Journal for Women and Policing is published twice yearly and contains features on outstanding individuals who have contributed to improving policing for women, news about the Council, and international and national events. The journal provides an important forum to discuss concepts and ideas on ways to achieve better outcomes for our community as well as dealing with the issues that affect the welfare and well-being of police women in general.
Your support is for our Council, it is not for the police service itself or the police union. All advertising assistance is greatly appreciated and is essential for the ongoing support of this quality publication to continue the communication between The Australasian Council for Women and Policing and its members.
The Journal is direct mailed to every police station in Australia and New Zealand.
The editions are now spring (Oct) and autumn (Apr).
Larger police complexes receive multiple copies of the Journal.
There are over 60,000 police employees in Australia with coast-to-coast coverage achieved in current mail-out.
Electronic copies of the Journal are posted online and receive hits from around the world.
Journal recognition is international and in 2012, led to ACWAP being invited to present in Pakistan.
ACWAP is affiliated with the Australasian Institute of Policing (AiPol) – this broadens reach and recognition.
Previous Journal articles have prompted inquiries from the USA, Canada and the UK (Qldd floods).
Details
Copies
5,000
Readership (Approx.)
15,000
Journal Size
210mm x 297mm
Format
10 different sponsor inserts to support local police members with corporate sponsors in all copies
Distribution
AiPol is distributed to all Police Institute members, police stations and valued supporters
Additional Information
Four editions per year (March, June, September and December)
Artwork required six weeks prior to delivery date. (Last deadline)
10% discount applies to an annual commitment of four editions.