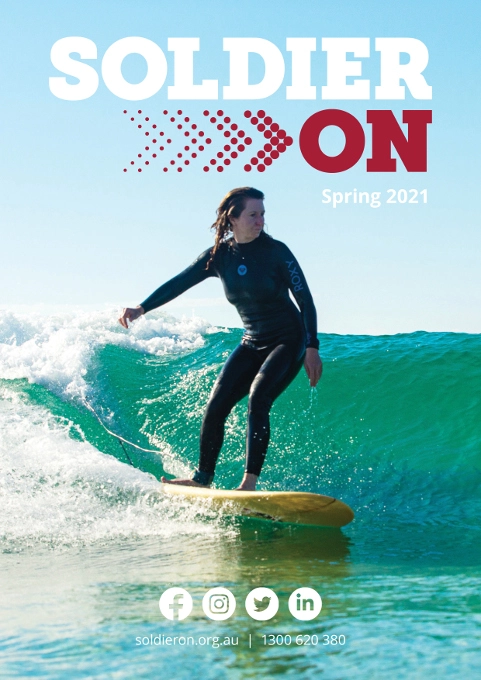 Soldier On is about Australians coming together to show their support for our physically and psychologically wounded. We want to show the men and women of our Defence forces that we will
always have their backs. Thanks to the support of the Australian public, we work to enhance recovery, inspire communities and empower Australia's wounded, giving those who have served our country the dignity they deserve and the chance to do and be whatever they choose.
Soldier On supports Australian service men and women who have been wounded, physically or psychologically in contemporary conflicts. This includes conflicts after 1990, as well as serving members who were wounded in training or other exercises and individuals working for other Government agencies (DFAT, AFP, Customs). We are not part of the RSL, Legacy, Defence Forces or the Department of Veterans Affairs, but are excited to work with these organisations to support Australia's young service men and women.
Soldier On does this in several different ways, in an effort to make a financial, physical and emotional link with those who have been wounded. The four areas we work to help – enhancing rehabilitation, adventurous events, community events, and employment and education.
Details
Copies
2,000
Readership (Approx.)
5,000
Journal Size
A4 (210mm x 297mm)
Format
Twelve different sponsor inserts to support local members with corporate sponsors in all copies.
Distribution
Soldier On is distributed to members, associates and valued supporters of the publication.
Additional Information
Three editions per year – Autumn, Winter and Spring.
Artwork required six weeks prior to delivery date. (Last deadline)
10% discount applies to an annual commitment of three editions.